Barrack Square Elizabeth Quay, Perth, WA
Elizabeth Quay is a popular tourist and community destination located on the north shore of the Swan River in Perth's CBD. The state government recently redeveloped the site into a mixed-use development comprising heritage attractions, residential apartments, office and retail space. Barrack Square adjoins the Elizabeth Quay development and construction in the area included two jetty pavilions, a new jetty and extension to existing ferry jetty, new boardwalks, water features and extensive landscaping.
Project Design Brief
The waterfront redevelopment site necessitated extensive electrical infrastructure and designers required various sized service enclosures to be installed in several locations at the southern end of the site. The enclosures needed to be secure and provide easy access for personnel. The designers also wanted to ensure all access covers would be discreet and harmonise with the various pavement materials used throughout the site.
ACO's Solution
Rhinocast® 16-part multi-part access cover with stainless steel decorative edge
ACO's Technical Service Department provided a detailed rebate and beam drawing for the 16-part multi-part access cover to be incorporated into the concrete slab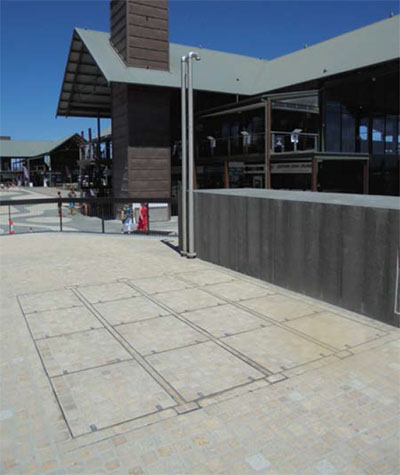 Benefits
60mm high stainless steel decorative edge enabled brick paving to be installed into the multi-part components and maintain the pavement aesthetics
Class D access covers withstand the wheel loads from buses and service vehicles using the roads around Barrack Square
Other ACO products used:
Cable pits and trench drain systems