Urbanfil® - Tilemate (shallow pan access covers)

A range of standard depth steel recessed cover & frame systems for use with tiles, concrete and epoxy floors
Tilemate is available in single part, 2 part, 3 part, trench run and multipart configurations up to class B80kN (AS 3996).
The range comprises square and rectangular infill access covers manufactured from hot dip galvanised steel. The steel base is fitted with reinforcing bars to provide flexural strength with concrete poured in situ.
Brass edging is an option for aesthetic applications.
Important note: To accommodate tiles, covers have an overall pan depth of 85mm (and 70mm at the frame edge). However as concrete is integral to the strength of the cover,  pavers need to be bedded with concrete to a minimum depth of 45mm.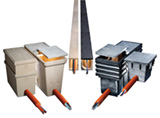 Cable pits and lids
ACO is one of Australia's foremost manufacturers of trafficable cable pits and continuous surface ducting systems, complete with a selection of lids and access covers.