Discreet Service Enclosures from ACO
In a previous article, we highlight how appropriate ACO's products are for the urban and landscaped environment; providing proof with revealing case studies to demonstrate the suitability of ACO's products.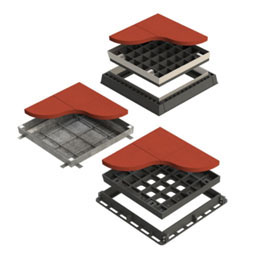 ACO in Australia offers a range of discreet service enclosures for pavements which provide fast secure and unobtrusive access to underground services such as electrical and communications cables, trade waste systems, valves and junction boxes. These high quality access covers preserve the visual continuity of the pavement surface and are designed to easily accommodate pavement materials with or without decorative floor edging.
ACO's access covers are lockable and ideal for both internal and external applications. They are available in ductile iron (Rhinocast) and galvanised steel (Pavermate and Urbanfil).
This article will show you that not only are ACO's discreet service enclosures highly practical, they're visually unobtrusive which allow designers to create a practical environment without compromising the look of the pavement.
ACO also provides decorative edging (in stainless steel or brass) for enhanced aesthetics.
Let us take a look at the discreet service enclosure products from ACO.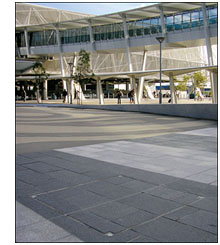 Pavermate – Steel cover and frames for pavers
The Pavermate  product range is a complete range of single part, square and rectangular access covers manufactured from galvanised steel. These high quality access covers are deep enough to accommodate pavers.
Pavermate is used in the multi-level car park which is linked to the Terminal 1 of Adelaide Airport Limited  by a multi-level bridge. ACO's Pavermate ensured that the access points were secure and discreet, preserving the continuity of the surrounding pavement. For this, ACO supplied these cover and frame systems in different sizes.
Urbanfil – Steel covers and frames for thin pavement materials
The Urbanfil range also comprises galvanised steel cover and frame systems to accommodate concrete, tiles, and other thin slab toppings. Like Pavermate access covers, Urbanfil access covers can be made in custom sizes to special order.
The Urbanfil range is extensively used at the Gold Coast University Hospital. A variety of thin pavers, ranging from different colours to tactile surfaces, are integrated into seven buildings, a multilevel car park, a helicopter landing site and its network of walkways linking the different buildings. ACO's Urbanfil products were in total alignment with the hospital's aesthetic requirements as all cable enclosures blended visually with the pavement pattern.
Rhinocast – Iron Cover and Frames for Pavers
All Rhinocast access covers are available in single part, 2 part, 3 part, trench run and multi-part configurations. The range includes iron recessed covers that can be adapted to accommodate various pavement materials with the addition of decorative brass and stainless edging. These are options for aesthetic applications.
In contrast ACO's new reduced ribbed ductile iron access covers are purpose built for the bedding of tiles and pavers up to 40mm thick without the need for edging. The 'T' frames enable a discreet finish with installed pavers.
For Robina Town Centre, a major shopping centre on the Queensland Gold Coast, designers selected Rhinocast ductile covers with stainless steel decorative edging to enclose a cable infrastructure system for power, lighting and communication requirements. The 6-part access cover system with individual removable covers provided an appropriate system to enable an electrical sub-station to be installed or removed, if required. At the same time the visual continuity of the Terrazzo tiled floor was preserved. Stainless steel decorative edging provided an upmarket appearance.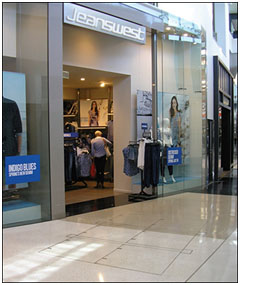 When the City of Perth Council decided to upgrade the footpath pavements at St Georges Terrace, a main street in Perth's CBD area, they had to do it without impacting the famous bronze tablets which commemorate WA's notable historical figures. Designers insisted on using ACO's Rhinocast ductile iron cover and frame systems with stainless steel decorative edging. This system ensured that the full depth of paver could be bedded, without modification, into each recessed cover thereby allowing visual continuity over all manhole utilities.
For the newly opened lobby eatery, Bistro One Eleven, run by one of Queensland's most renowned chefs, Philip Johnson, and located in ONE ONE ONE Eagle Street, designers selected ACO's Rhinocast ductile iron access covers as a trench run with discreet stainless steel edging. The pavement materials were fixed into each recessed cover thereby allowing visual continuity over the underlying service trench.
If you want to find out more about any of ACO's discreet service enclosure products, call us at 1300 765 226 to speak with an expert.