Paving the Way for Access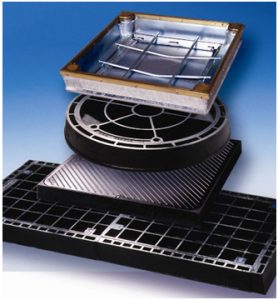 Manufacturer ACO Polycrete supplies Australia's widest range of access covers. We are paving the way for single and multiple manhole covers and recessed steel covers, offering high quality standard and specialty access covers that facilitate quick and easy access to underground services. For us, safety, durability and ease of use are always priorities, but if aesthetic design is also a priority for your application, our world leading access cover range enables decorative floor finishes which can be maintained with minimum interference, so you can create a practical environment for service providers without compromising the style of the area. We provide covers suitable for both internal and external applications. Standard products include the Rhinocast and Urbanfil range. We also supply specialty assisted lift access covers for applications where frequent access to the utilities or machinery stored beneath is required. In this article, we will look at the features of the Rhinocast and Urbanfil ranges.
RHINOCAST®
Rhinocast® is a comprehensive range of circular, square and rectangular access covers manufactured from ductile iron. Products in this range feature either solid or recessed tops to suit individual applications. Covers are available in a choice of single part, 2 part, 3 part, multiple part and trench run configurations with the option of brass or stainless steel edging for seamless integration into the surrounding environment. Rhinocast® systems are available for load classes up to Class G900kN (AS3996) and fire rated systems are also available. The flexibility of this range makes it ideal for many applications including both internal and external in commercial and industrial areas, streetscapes, docks, ports, airports, roads, carriageways and ducting trenches.
URBANFIL®
Urbanfil comprises a range of Australian made steel recessed access covers for use in general purpose applications. These precision manufactured systems are designed to accommodate concrete, tiles, brick pavers and most other floor and slab toppings.  They are available in single part, 2 part, 3 part, trench run and multipart configurations. Special sizes can be manufactured to special order. Urbanfil® access covers are ideal for a large number of applications including internal areas, streetscapes, light commercial areas, ducting trenches, electrical and communications services, bus and rail platforms and shopping centres. To find out more about the Urbanfil® range, visit the Urbanfil®  page of acoaus.com.au.
Specialty Access Covers
ACO Polycrete also supplies a range of assisted lift cover and frame systems. Assisted lift access covers are designed for situations where frequent access to utilities or machinery beneath the cover is required. The cover is hinged to the frame and a gas strut allows for easy opening. The large number of sizes and styles available makes our assisted lift range of access covers ideal for many applications, including airports, docks, ports, industrial areas and any location where frequent access to enclosures holding equipment is required.
For practical and stylish access covers ideal for any application, get in touch with the team at acoaus.com.au